CATEGORY ARCHIVES: GARDENING
Paperwhites as cut flowers
Last week Debra posted about the paperwhites that we have available for sale. We love to pot these up in vintage milk glass containers or wooden vessels. You'll get at least a month of enjoyment as you watch this bulb sprout up into fragrant white flowers on a tall stem.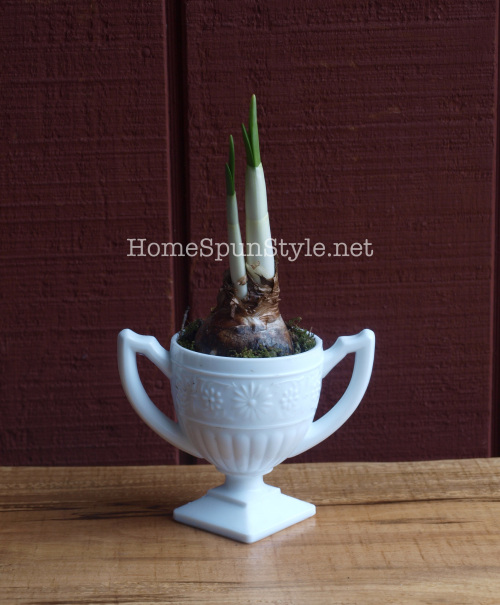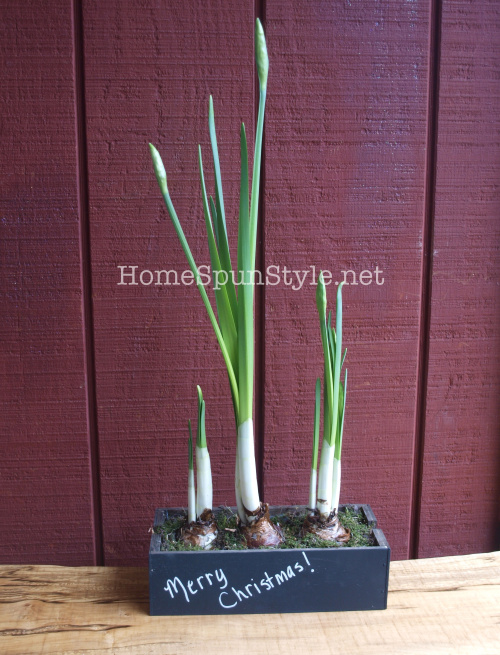 Sometimes the flowers can seem a little too tall and they will begin to flop over if not given some kind of support. Here, in the top right hand corner of the photo below you can see one of these plants that has reached that stage.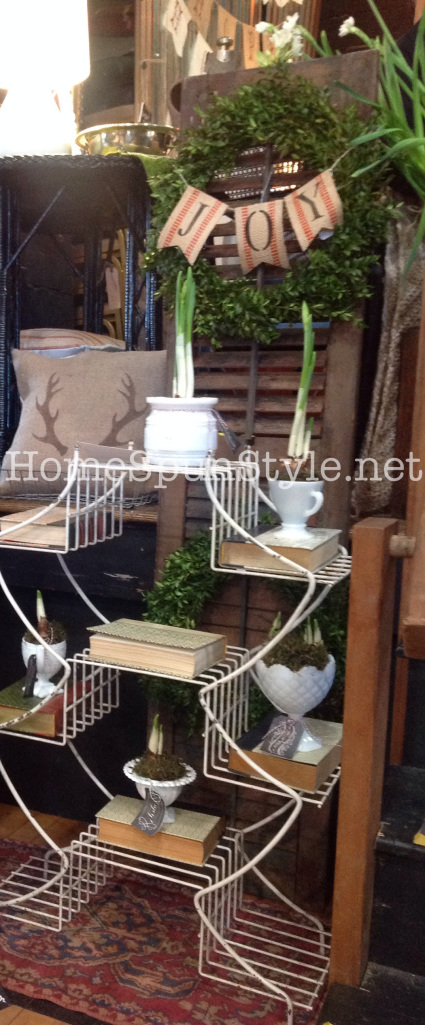 Sometimes all that is needed is a little twine or raffia tied in a bow midway up the stem. If the plant still seems too tall, I've found that paperwhites make beautiful cut flowers that can extend your enjoyment of this plant for another week. In the following photo, I simply placed a single stem in individual milk glass containers grouped together. Couldn't be simpler!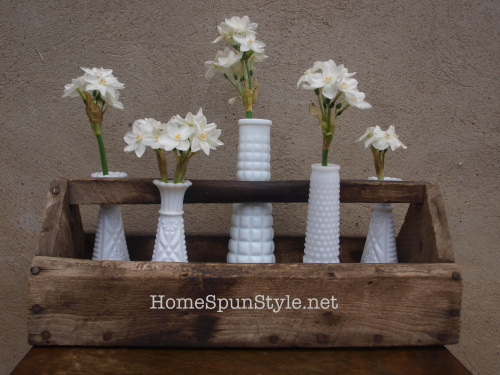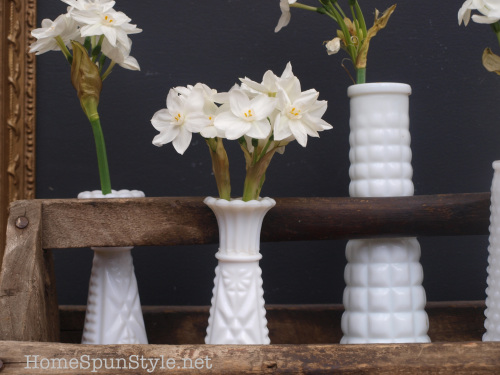 Or one single bud vase placed bedside adds simple elegance and subtle fragrance.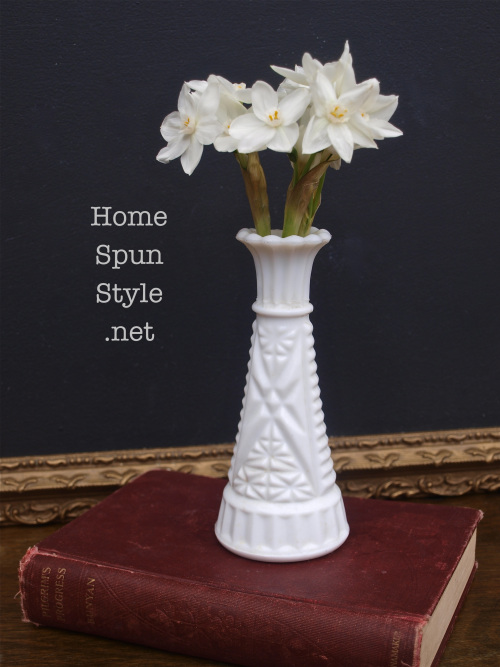 Hope you're able to pause, even briefly, during this hectic holiday season to enjoy some simple beauty.
Wheat Grass Centerpieces
Debra and I always grow these wheat grass centerpieces around Easter time.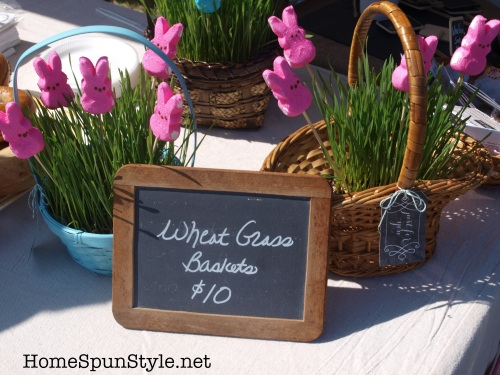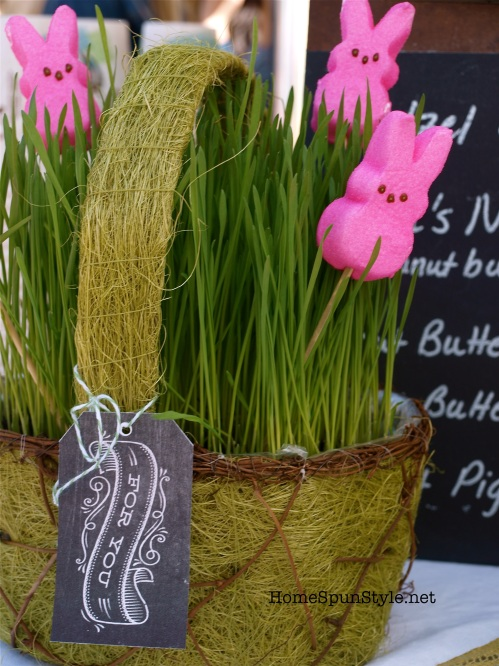 We think they're adorable with the little bunny peeps nestled inside.
But, they're also great for a simple, more modern looking centerpiece for your home or for weddings. They couldn't be more cost-effective or simple!
Here's how:
Supplies:
Wheat berry seeds: We like to purchase our seeds in bulk at a local health food store. The seeds themselves are very healthy and can be boiled and eaten as a nutritious grain. Or, many people like to grow and use the greens for juicing.
Container of your choice. Drainage holes are not necessary. Just make sure you don't over water. Our favorite vessels for this project are baskets fitted with plastic liners, milk glass and rustic square or rectangular wooden boxes (lined with plastic).
Potting soil
Directions: Fill the container of your choice 3/4 full of potting soil. Completely cover the top of the soil with seeds. Place in a sunny location and water daily. Keep soil moist but don't over water. I find that a spray bottle works well. You should see sprouts in a few days with a lush growth in about 3 to 4 weeks, depending on your sun exposure. If the grass gets too long, you can simply give your plant a haircut.
The trickiest part of this project is knowing how long it will take for the grass to grow and become full. If you want to use wheat grass at a particular event I would recommend doing a trial run in advance so you will know how much time is needed for germination and desired growth.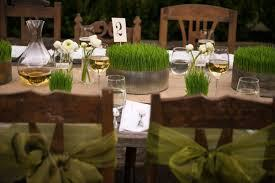 For more information, Janet over at Today's Fabulous Finds has a great tutorial on how to plant the seeds and how to build a rustic planter. She also has another interesting tutorial on using wet paper towels to plant the seeds rather than soil. You can check that out here.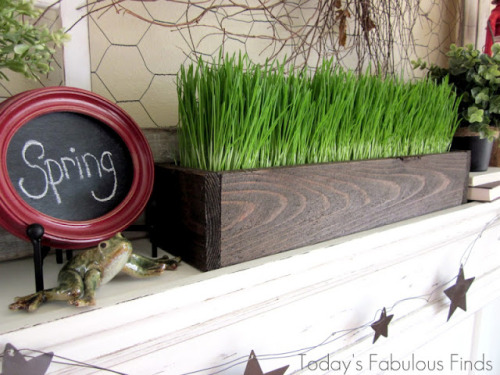 Hope you give this simple yet elegant project a try!
Mason Jar Terrariums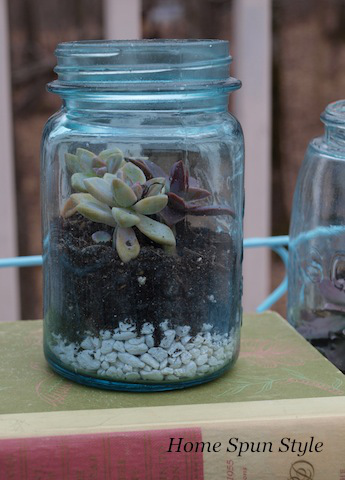 If you don't have a green thumb (like me), these mason jar terrariums are the perfect gardening project. They also make wonderful gifts. I pick up these blue mason jars whenever I can find them but I think a clear class mason jar would be pretty as well.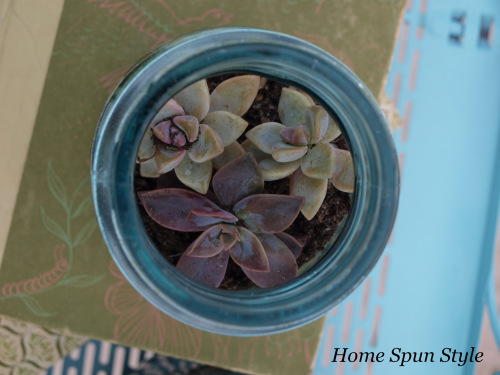 We brought a few of these to the women's retreat at Tuscarora Inn last month where we had a booth and led a workshop.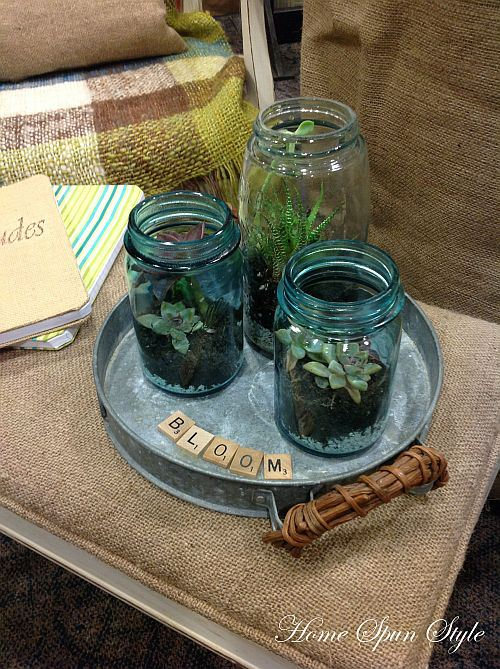 Supplies:
Mason Jar
gravel – I used white aquarium gravel which I found in pet supplies at Wal-Mart.
potting soil
variety of succulents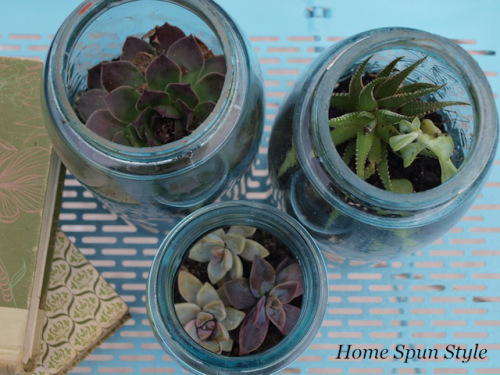 Directions:
Pour about one inch of gravel into the bottom of the jar. Then add one to two inches of potting soil on top of the gravel. Next arrange the succulents into the soil. This is a little awkward. I found it helpful to use a spoon to press the plants down into the soil, trying not to get the sides of the jar too dirty.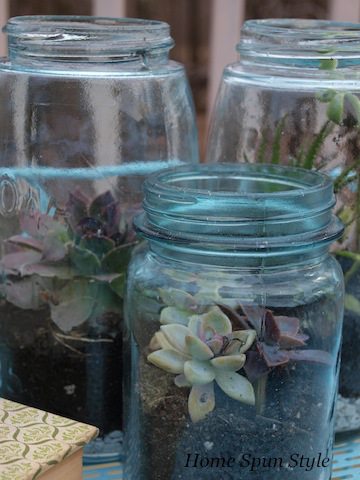 Water sparingly as these plants like to stay on the dry side.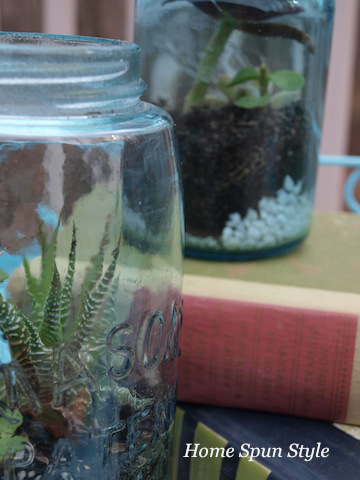 Place in a sunny location and enjoy!
ABOUT ME

---
I am passionate about creating comforting homes through sewing, repurposing, crafting and thrifting.
---
FOLLOW BLOG VIA EMAIL
Enter your email address to follow this blog and receive notifications of new posts by email.
Join 208 other followers
---
FOLLOW HOME SPUN STYLE ON FACEBOOK
---
FOLLOW ME ON PINTEREST

---
FOLLOW ME ON INSTAGRAM

---
CATEGORIES
---
ARCHIVES
---
FEATURED IN COUNTRY LIVING MAGAZINE FEB 2012
---
THE BEACH HOUSE