CATEGORY ARCHIVES: RECIPES
Small changes for a healthier new year: Black Bean Brownies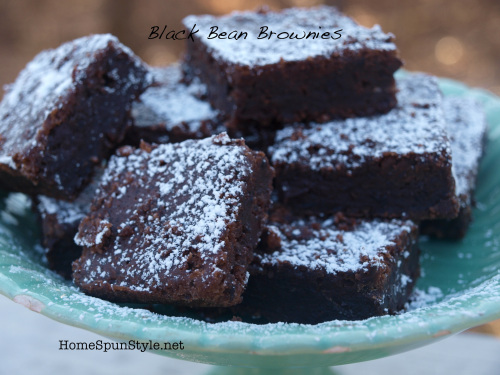 I don't know about you, but the only way for me to make lasting change in terms of a healthier lifestyle is to make small specific baby steps. In 2014, I began to study recipes and research ways to switch unhealthy fats in my cooking for healthier one. Instead of vegetable oils and Crisco, I now primarily cook and bake with olive oil, butter and coconut oil. My all time favorite recipe from this past year is a recipe called Black Bean Brownies (or as I tell my children "double chocolate chip brownies"). They love them! It's a great way to boost nutrition through desert. Here it is: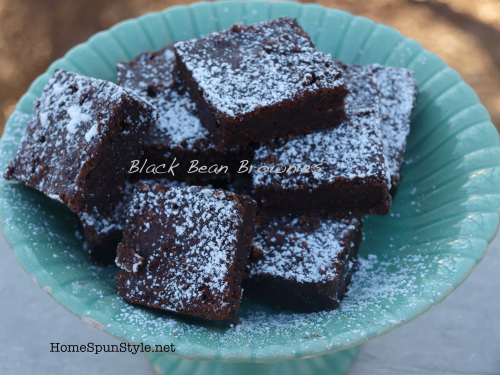 1 can black beans, drained and rinsed
1/2 cup dark or semi-sweet chocolate chips
*1/4 cup unbleached white flour
1 cup granulated sugar
1/4 cup unsweetened cocoa
1/2 teaspoon baking powder
1/2 teaspoon baking soda
1/8 teaspoon kosher salt
2 large eggs
3 tablespoons coconut oil, melted
1 and 1/2 teaspoon vanilla
1/4 cup chocolate chips (opt.)
1/4 cup chopped walnuts (opt.)
Preheat oven to 350 degrees. Grease pan. Combine beans, chocolate chips, flour, sugar, cocoa, baking powder, baking soda, salt, eggs, oil and vanilla in a food processor. Pour into prepared pan and sprinkle with additional chocolate chips and nuts if desired. Bake for 30-45 minutes or until set.
*note: feel free to experiment with using your favorite type of flour. With only 1/4 cup, the flour is not a major component of this recipe. I've used coconut flour in the past with success. The texture of the brownies will change slightly but they're still yummy!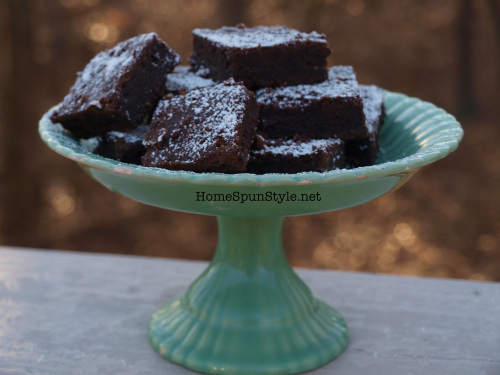 One blog that I've enjoyed studying this past year is the Wellness Mama. I've particularly found her recipes for beauty and cleaning products to be helpful. You can check out her 101 Uses for Coconut Oil here.
Wishing you a healthy 2015!
Molasses Cookies (Gingerbread Men)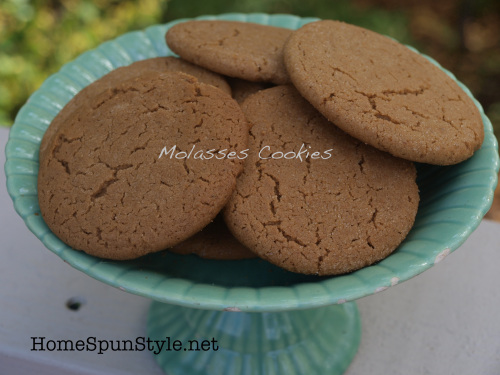 I had so much fun leading a Food Demo for a group staying at Tuscarora Inn and Conference Center yesterday. Two of the recipes that I demonstrated are already on our blog. You can check out Homemade Granola here and Pumpkin Pie Cake here. The third recipe, Molasses Cookies, is another family favorite. These cookies showed up in my lunch box often when I was a child. I love this recipe because it calls for simple ingredients that I usually have around my home. It's also a great dough for making cut-out cookies at Christmas (or anytime!). My son loves it when I make them into the shape of footballs and pipe white icing on for the laces. We also package mini gingerbread men for Christmas gift giving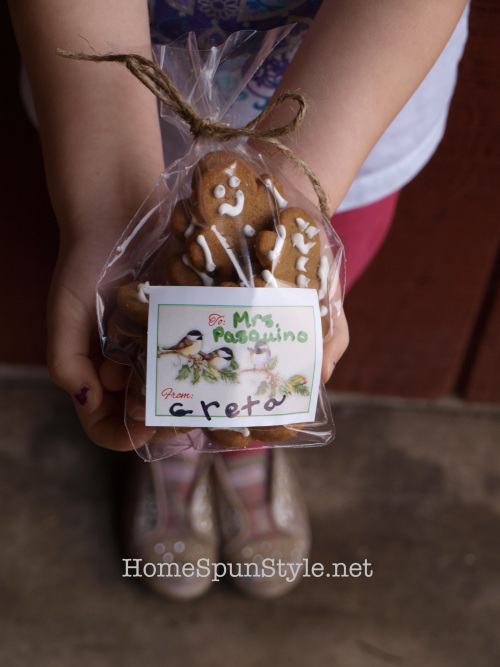 Ingredients:
3/4 cup shortening
1 cup brown sugar
1 egg
3 tablespoons molasses
1/2 teaspoon salt
1/2 teaspoon cinnamon
1/2 teaspoon nutmeg
1/4 teaspoon ground cloves
2 teaspoons baking soda
2 1/4 cup flour
Directions:
Mix above ingredients. Roll out dough on floured surface and cut into shapes or roll into balls, coat with sugar and flatten. Bake for approximately 10 minutes at 350 degrees. Frost with Royal Icing if desired.
*note: If using this recipe for cut-out cookies, chill the dough for a few hours before rolling. This will make the dough much easier to work with. The dough also freezes well so feel free to make ahead of time and store until you're ready for baking and decorating.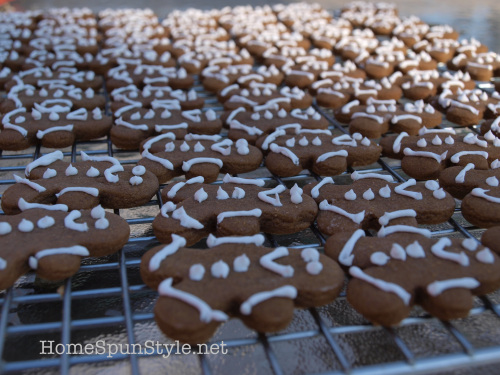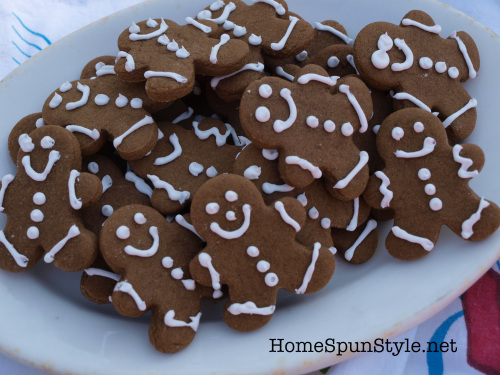 People love these happy mini gingerbread men and we enjoy giving them away at the Hope Craft Market the first weekend in December. I know it's early, but I like to at least start planning ahead for Christmas gift giving and homemade gifts from your kitchen are always welcome!
Or simply enjoy these cookies year round like we do. You don't need an excuse to enjoy these cookies!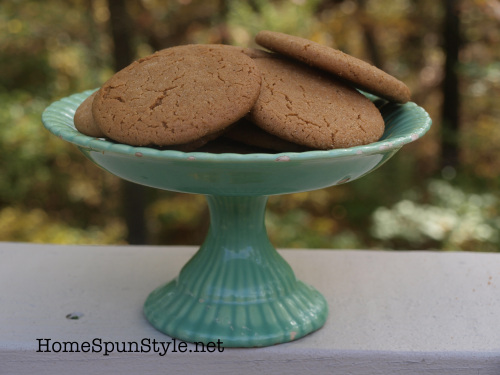 Four Fall Favorites
There are so many things to love about fall! I'm sure you have a list of your favorites as well. It's hard to narrow it down but here are four of my fall favorites for decorating and entertaining.
1. Book Page Pumpkins:
I made this easy book page pumpkin last year. We received such good feedback on it that I thought it was worth reposting again this year. It's a cute pumpkin that can be brought back year after year. For instructions, click here. Note the bittersweet that I added around the base of the pumpkin. I'll talk more about this later on in the post. Couldn't be easier!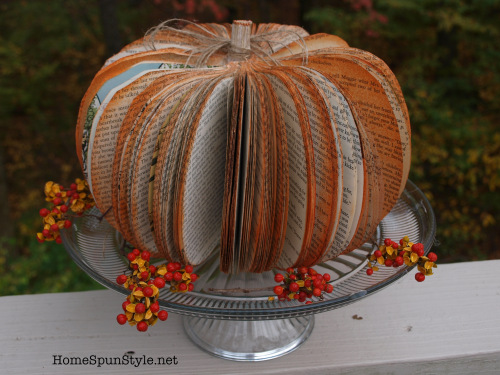 Pumpkin Lattes:
If you're craving a Pumpkins Spice Latte from Starbucks but don't want to spend the money, you can try this home-make version from Farm Girl Gourmet.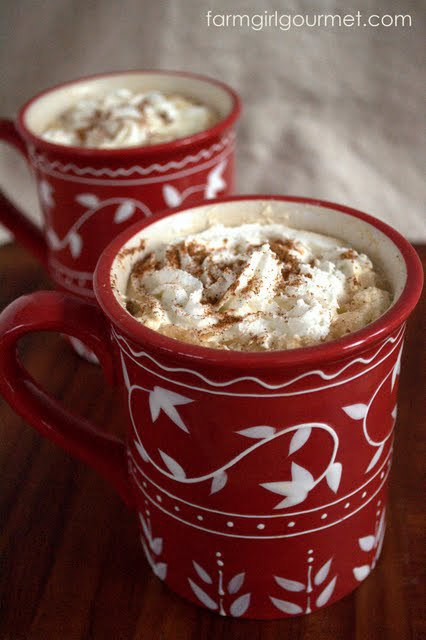 Note: If you keep the milk and coffee to 2 cups and 1/2 cups respectively, you can play around with the amounts of the other ingredients to suite your taste. I prefer the following: 2 c. 2%milk, 2 tablespoons pureed pumpkin, 2 tablespoons sugar, 2 teaspoons vanilla extract, 1/2 teaspoon pumpkin pie spice and 1/2 c. strong brewed coffee.
I prefer this homemade version to Starbucks. So yummy! One for you and one to share!
3.Pumpkin Pie Cake: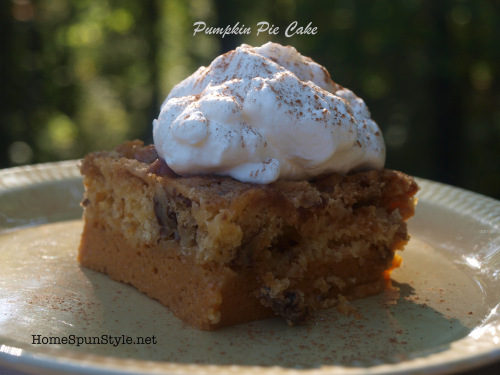 If you're intimidated by making pie crusts, you may want to try this spin on the Pumpkin Pie classic. It's a crowd pleaser in my home and we look forward to it every fall.
Ingredients:
1 (30 oz.) can pumpkin pie mix
1 (12 oz.) can evaporated milk
3/4 cup sugar
3 eggs
1 box yellow cake mix
1/2 cup melted butter
1 cup chopped pecans
Directions:
Beat together pumpkin pie mix, evaporated milk, 3/4 cup sugar and eggs. Pour into a greased 9 x 13 inch pan. Sprinkle yellow cake mix powder over above and pat down lightly. Sprinkle with pecans. Drizzle melted butter over top. Bake for one hour at 350 degrees. Enjoy!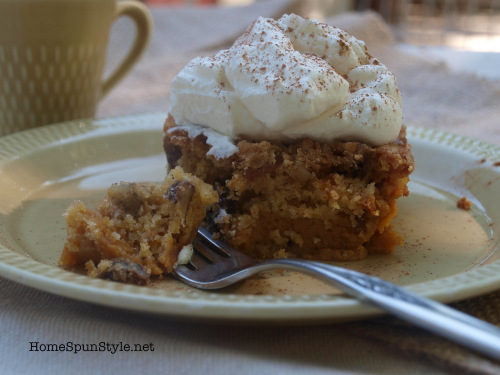 4.Bittersweet: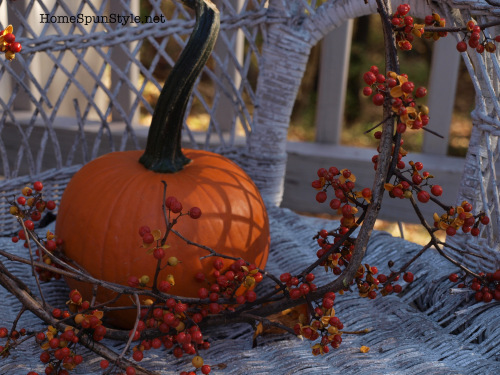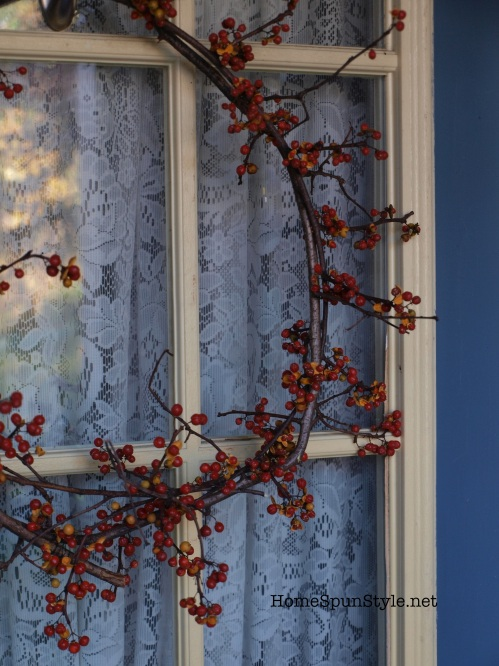 Bittersweet is great for adding high impact with very little effort. We're fortunate in our part of the country because it grows wild on the sides of the road here in October. If you're not lucky enough to have it growing near you in the fall, you can purchase it here. You need no decorating ability to add this stuff to your mantle, a shelf, chandelier or anywhere else that may need some freshening up. Just have fun with it! When it's time to decorate for Christmas, I simply throw the bittersweet into my compost pile.
Hope you give one of these ideas a try! And of course, feel free to share your favorite fall recipe or decorating tip!
ABOUT ME

---
I am passionate about creating comforting homes through sewing, repurposing, crafting and thrifting.
---
FOLLOW BLOG VIA EMAIL
Enter your email address to follow this blog and receive notifications of new posts by email.
Join 208 other followers
---
FOLLOW HOME SPUN STYLE ON FACEBOOK
---
FOLLOW ME ON PINTEREST

---
FOLLOW ME ON INSTAGRAM

---
CATEGORIES
---
ARCHIVES
---
FEATURED IN COUNTRY LIVING MAGAZINE FEB 2012
---
THE BEACH HOUSE